Bitte beteiligen Sie sich an unserer Online-Aktion und fordern Sie mit uns die Verantwortlichen in Süd Korea auf, den Import von weiteren Delfinen und Belugas für die dortigen Delfinarien und den Verkauf von Wal- und Hundefleisch gesetzlich zu verbieten.

Millionen von Tieren würde damit viel Leid erspart bleiben!

Informationen und Teilnahmemöglichkeit unter:

Online-Aktion

Das kleinste Delfinarium der Welt - https://youtu.be/9n8vj3GZYmY

Der einzige positive Ort in diesem Hafenabschnitt - Ein riesiges Whale Watching-Boot liegt im Hafen von Ulsan.

Dolphinarium Ulsan

January 2018

A place of horror for animal lovers!

The only positive scene in this stretch of the harbour - A huge whale watching boat is moored at the dockside in Ulsan harbour.

Direkt daneben befindet sich das Wal-Museum, in der die Geschichte des Walfangs Süd-Koreas sehr beeindruckend dargestellt wird.

Right next to it is the Whale Museum, where the history of whaling in South Korea is impressively displayed.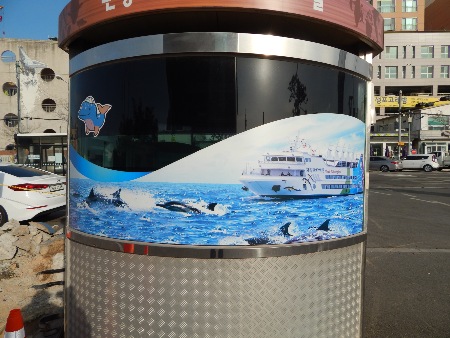 Auf der anderen Straßenseite befinden sich an der gesamten Häuserfront Restaurants, die noch immer Walfleisch anbieten!

Siehe Bericht unter

On the other side of the road are restaurants which extend along the entire street frontage, where whale meat is still on offer!


See report under: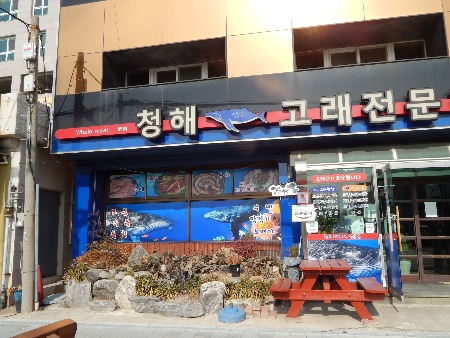 Toter Minkwal

A dead minke whale

Auf der anderen Straßenseite befindet sich dieses Wal-Modell, in der eine Kasse für das Wal-Museum und Toiletten untergebracht sind.

Across the road is this model of a whale, which houses a cash register for the Whale Museum and adjoining toilets.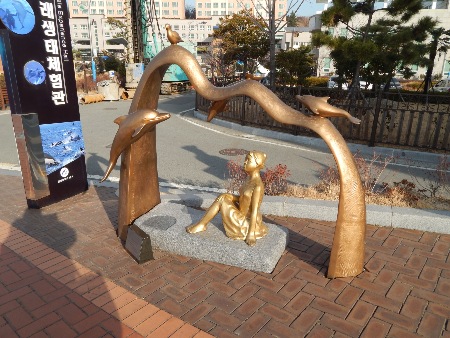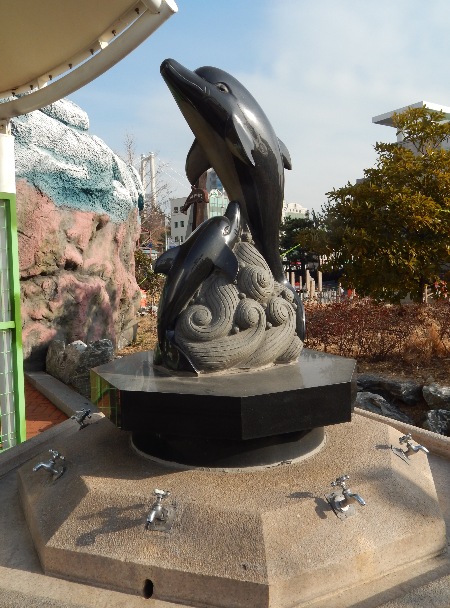 Wir besuchten schon in 2005 diesen Ort im Hafen von Ulsan. Damals tagte die IWC in dieser Stadt.

Genau hier hielt Greenpeace ein Grundstück besetzt, auf dem eine Walfleisch-Fabrik gebaut werden sollte.

Es kam anders. Die Pläne wurden verworfen und es wurde leider ein Delfinarium an dieser Stelle gebaut.

In 2005 we visited this place in the port of Ulsan. At that time the IWC met in this city.

Right here on this spot, Greenpeace protested and occupied a plot of land on which there was a plan to build a whale meat factory.

The whale meat factory proposal never came to fruition. The plans were rejected and sadly a dolphinarium was built in its place.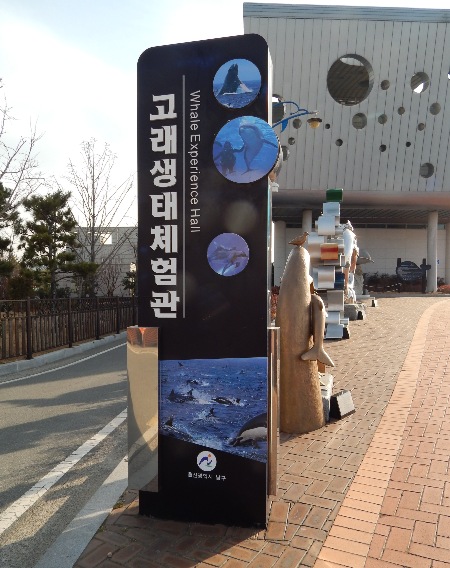 Das Becken in der Halle ist winzig und trostlos!

The pool in the main hall is tiny and bleak!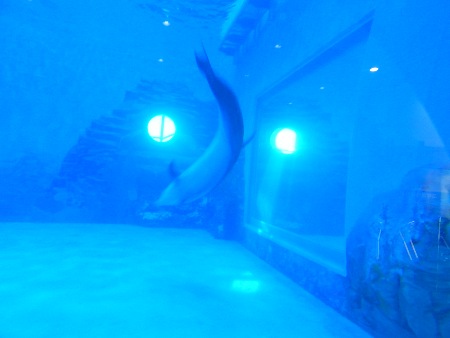 Keine geeignete Umgebung für Delfine!

Not a suitable environment for dolphins!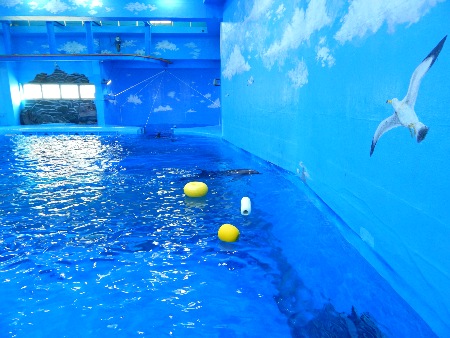 Es stinkt nach Chlor und zu allem Lärm der Besucher kommt noch die Beschallung von Musik in der kleinen Halle hinzu!

It stinks of chlorine and there is the noise of the visitors, plus music is also added to the small hall!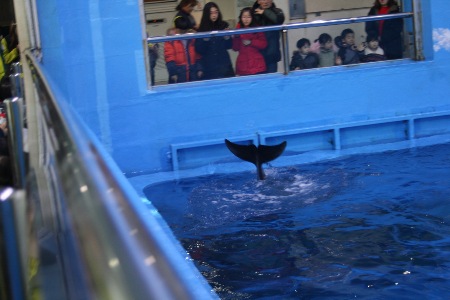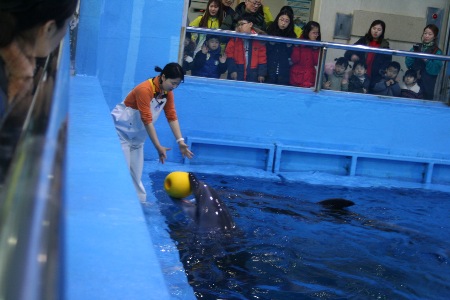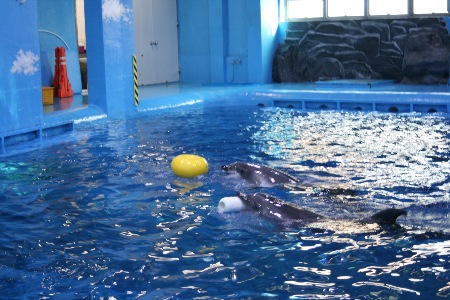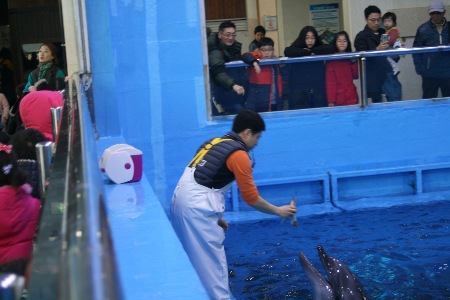 Es wird auf die erfolgreiche Zucht hingewiesen. Jedoch wo sind diese Tiere?

In diesem wohl kleinsten Delfinarium der Welt sind wohl schon einige Delfine gestorben!

Öffentlich wurde ein Fall, dass ein Delfin, der aus Japan importiert wurde, nur fünf Tage in dem Delfinarium in Ulsan starb. Nach dem langen Transport von über 30 Stunden starb er an Stress!

Wir haben recherchiert, dass in 2009 vier und in 2012 noch zwei weitere Delfine aus Japan hierher kamen. Es waren Wildfänge, die bei den grausamen Treibjagden in Taiji gefangen und dann zu Show-Sklaven abgerichtet wurden, bevor sie in dieses Delfinarium kamen.

Die Besucher hier wissen davon natürlich nichts!

Their success in breeding is pointed out. But where are these animals?

Probably quite a few dolphins have died in this, most likely the smallest dolphinarium in the world!

A case that came to the public eye was of a dolphin imported from Japan, that died after only five days in the Dolphinarium in Ulsan. After the long journey of over 30 hours, he died of stress!

Our investigations found that in 2009, four dolphins and a further two more dolphins in 2012, came from Japan. They were caught from the wild during cruel hunts in Taiji and then trained to be show slaves before entering this dolphinarium.

Of course the visitors here know nothing about it!

In diesen kleinen Becken ist eine nachhaltige Zucht unmöglich!

Sustainable breeding is impossible in these small basins!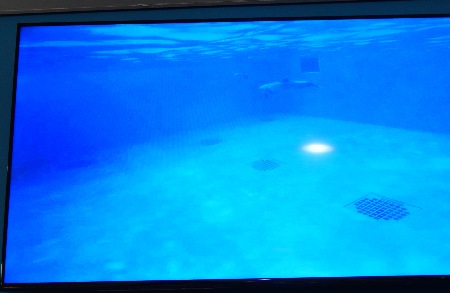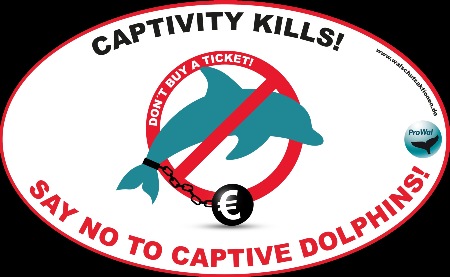 Süd Korea ist durch seine Delfinkäufe in der Vergangenheit für die grausamen Delfin-Treibjagden in Taiji/Japan mitverantwortlich!

Due to South Korea purchasing dolphins in the past, they share responsibility for the cruel dolphin hunts in Taiji/Japan!

Das kleinste Delfinarium der Welt - https://youtu.be/9n8vj3GZYmY