Schließung Delfinarien

Closing of dolphinariums

Mehr Informationen: Siehe linke Menüpunkte...

For more information: Go to the menu on the left...

ProWal-Aktionen - Ukraine – Delfingefängnisse schließen

Um die Delfin-Treibjagden in Taiji zu beenden, müssen auch die Delfinarien geschlossen werden, die diese wunderbaren Tiere in Japan kaufen und für ihre kommerziellen Interessen bis zu ihrem Tod ausbeuten!

ProWal setzt sich als erste ausländische Organisation für die Schließung von 21 Delfinarien in der Ukraine ein.

ProWal gelang im Februar 2012 eine Schließung eines Delfinariums in einem Hotel in Yalta, in dem Delfine und ein Beluga-Wal in einem Schwimmbecken gehalten wurden. Informationen darüber unter Hotel Yalta

9 Delfinarien befinden sich in der Ukraine - 12 Delfinarien befinden sich auf der Halbinsel Krim, die in 2014 von Russland annektiert wurde.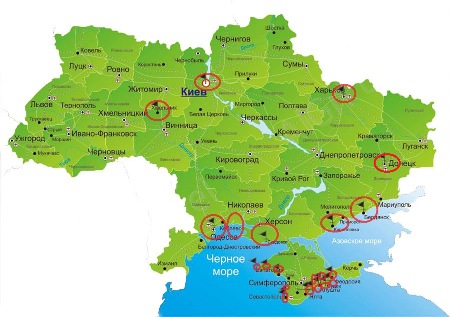 ProWal-Actions - Ukraine - Closing of dolphin-jails

In order to stop the drive-hunts in Taji the dolphinariums, which are buying these beautiful animals from Japan for their commercial gain and exploit these animals until their death, also have to be closed.

ProWal started in the Ukraine and will, as the first foreign organization, apply itself to accomplish the closing of 20 dolphinariums.