Endlich! Delfinarium im Gardaland/Italien wurde geschlossen!

Ein weiterer wichtiger Schritt zu weniger Delfinarien in Europa und der damit verbundenen geringeren Nachfrage nach weiteren Delfinen ist gelungen!

Eine kontroverse Diskussion über die Gefangenschaft von Delfinen begann in Italien bereits im Jahr 2000, als im Gardaland vier Delfine innerhalb von drei Jahren gestorben sind. Obwohl die Staatsanwaltschaft von Verona intensive Ermittlungen einleitete, konnte nie geklärt werden, woran die Tiere starben.

Am 6. Januar 2013 fand nun die letzte Delfin-Show im Gardaland statt. Nach unbestätigten Berichten zufolge, sollen die vier Delfine in das Delfinarium/Aquarium nach Genua umgesiedelt werden.

http://livesicilia.it/2013/01/15/gardaland-senza-delfini-in-pensione-i-mammiferi_244800/

http://www.viaggiandoineuropa.it/news/1894-gardaland-non-avra-pi-i-delfini-14012013.html

Obwohl uns der Eigentümer des Gardalands, das britische Konsortium Merlin Entertainment bereits in 2008 zusicherte, dass für die beiden Delfine aus dem geschlossenen Delfinarium im Heide-Park bei Soltau (Arni und Joker, die 2008 nach Nürnberg gebracht wurden) und für die Delfine aus dem Gardaland, die bestmöglichste Unterbringung gefunden werden solle, will man davon heute wohl nichts mehr wissen. Eine vorgeschlagene Einrichtung für eine von Menschen betreute Meeresbucht im Mittelmeer ist dem Eigentümer wohl zu teuer und eine Abschiebung an andere Delfinarien viel günstiger und wohl auch einfacher.

Zumindest vertritt Merlin Entertainment eine offizielle Meinung, die sicherlich noch Folgen für andere Delfinarien haben wird!

"Das Unternehmen vertritt weiterhin den Standpunkt, dass derartige Einrichtungen den Tieren keinesfalls gerecht werden. Meeressäuger und Walartige sind in Gefangenschaft nicht artgerecht zu halten."

ProWal-Online-Protest wird nun eingestellt!

Wir stellen nun unseren schon seit Jahren laufenden Online-Protest und den damit verbundenen Besucher-Boykott-Aufruf gegenüber allen weiteren Anlagen des Eigentümers Merlin Entertainment ein.

(Alton Towers Resort, Chessington World of Adventures and Zoo, Dungeons, Earth Explorer, Gardaland, Heide–Park, LEGOLAND, LEGO LAND OF DISCOVERY CENTRE, London Eye, Madame Tussauds, SEA LIFE, THORPE PARK und Warwick Castle)

Vielen Dank an alle, die sich an dieser Aktion beteiligt haben!



ProWal-Foto – Die Zukunft der beiden Delfine "Arni" und "Joker", die separiert von anderen Delfinen im Nürnberger Delfinarium untergebracht sind, ist ungewiss. Weder der Zoo, noch der Eigentümer Merlin Entertainment äußern sich dazu.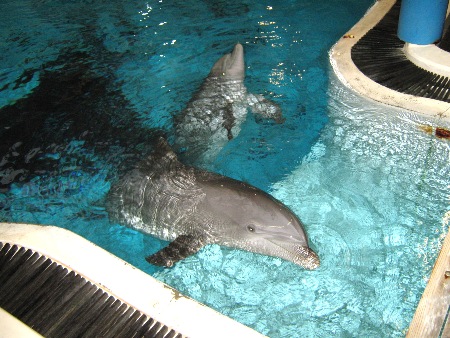 TEXT IN GERMAN AND ENGLISH:

ProWal-Online-Aktion – Schließung des Delfinariums im Freizeitpark Gardaland/Italien

Der Betreiber des Heide-Parks in Soltau bei Hamburg, Merlin Entertainment, kam nach massiven Protest- und Boykottaktionen vor vier Jahren zu der Erkenntnis, dass Delfine und Walartige in Gefangenschaft nicht artgerecht gehalten werden können. Daraufhin wurde im Herbst 2008 das Delfinarium im Heide-Park in Soltau geschlossen. Die beiden Delfine wurden nach Nürnberg transferiert und das Delfinarium abgerissen.

Skandalös ist, dass vom gleichen Betreiber bis heute noch ein weiteres Delfinarium im Freizeitpark Gardaland in Italien betrieben wird! Immer wieder kündigt der Eigentümer eine Schließung dieses Delfinariums an. Passiert ist jedoch bis heute nichts!

Bitte protestieren Sie und fordern Sie mit uns die Schließung des Delfinariums im Gardaland in Italien.

Bitte senden Sie diesen Formbrief (bitte noch unterschreiben) oder einen eigenen Brief an die unten angegebenen Adressen. Merlin Entertainment ist ein Konsortium und unterhält noch viele weitere Freitzeiteinrichtungen.

Vielen Dank für die Teilnahme!


Eine Online-Aktion von:

ProWal

www.walschutzaktionen.de




--------------------------​-

………Formbrief………



Concerning: boycott against Merlin Entertainment

Dear Sir/Madam,

It is with surprise and dismay that I learn from friends that your company group - Merlin Entertainment, still continues to operate the Dolphinarium in Gardaland, despite the facilities at this park being totally unacceptable for the cetaceans in your care! They are wild animals and should be living in their natural habitat - the 'open' sea.

I am pleased to hear the news that your enterprise closed the Heide-Park Dolphinarium in Soltau in 2008. Indeed, I cannot understand why it is that Merlin Entertainments has not done likewise and closed the dolphin show arrangement in Gardaland. The 'values', which you say all company employees from Chief Executive officer to your newest employee, recognise and strive to work to, in this case, it would seem are being ignored and people simply do not believe that you are doing 'what is best' for the dolphins that are in your care! I therefore wish to inform you that I strongly protest against this behaviour of your company and I will take part in the European-wide boycott of all enterprises associated with the Merlin entertainment group and will continue to do so until such time you take your responsibility seriously and close the dolphinarium in Gardaland.

Furthermore, I will also pass on the boycott call to friends at home and abroad and encourage them to boycott the following attractions:


- Alton Towers Resort

- Chessington World of Adventures and Zoo

- Dungeons

- Earth Explorer

- Gardaland

- Heide - Park

- LEGOLAND

- LEGO LAND OF DISCOVERY CENTRE

- London Eye

- Madam Tussauds

- SEA LIFE

- THORPE PARK and Warwick Castle.


Please - 'Do the right thing' - 'Take responsibility' - 'Make a difference' 'listen' and act to finally end this obscene animal cruelty you call 'Entertainment!'

Yours faithfully,

(xxx)



--------------------------​---------------------


Protest-Adressen – einfach kopieren und in das E-Mail-Empfängerfeld einfügen:

slcbirmingham@merlinentert​ainments.biz; slcblackpool@merlinenterta​inments.biz; slcbray@merlinentertainmen​ts.biz; slcbrighton@merlinentertai​nments.biz; slcyarmouth@merlinentertai​nments.biz; slcscarborough@merlinenter​tainments.biz; slcweymouth@merlinentertai​nments.biz; slcberlin@merlinentertainm​ents.biz; hannover@sealife.de; koenigswinter@sealife.de; slckonstanz@merlinentertai​nments.biz; muenchen@sealife.de; oberhausen@sealife.de; slcspeyer@merlinentertainm​ents.biz; slctimmendorfer@merlinente​rtainments.biz; info@sealife.es; slcblank@merlinentertainme​nts.biz; info@sealife.fi; chantal.villeneuve@merline​ntertainments.biz; scheveningensealife@merlin​entertainments.biz; infosealife@gardaland.it; oban@sealsanctuary.co.uk; seals@sealsanctuary.co.uk;​ hunstanton@sealsanctuary.c​o.uk; FAQ@LEGOLAND.com; faq@legoland.com; info@earthexplorer.be; duisburg@legolanddiscovery​centre.de; info@legolanddiscoverycent​re.com; havefun@legolanddiscoveryc​entre.com; customer.services@londoney​e.com; corporate.event@londoneye.​com; events@merlinvenues.com; groups@londoneye.com; kim.wasik@MadameTussaudslv​.com; info@madametussauds.nl; info@madametussaudsdc.com;​ groupsales@madametussaudsn​y.com; info@madametussaudslv.com;​ csc@madame-tussauds.com; info@madametussaudsny.com;​ hamburg.dungeons@merlinent​ertainments.biz; info@earthexplorer.be; infobox@gardaland.it; kate.stapylton@merlinenter​tainments.biz; edinburghdungeon@merlinent​ertainments.biz; caro.broessel@merlinentert​ainments.biz; info@heide-park.de; Info.Mecc@merlinentertainm​ents.biz; Laura.Stoelting@dr-p.de;

==================

ENGLISH:

ONLINE-ACTION TO CLOSE THE DOLPHINARIUM IN THE AMUSEMENT-PARK GARDALAND/ITALY

The operator of the Heide Park in Soltau near Hamburg, Merlin Entertainment, came after massive protests and boycott actions four years ago to the realization that dolphins and cetaceans in captivity can't be kept in appropriate conditions. Thereupon the dolphinarium was closed in the autumn of 2008 in the Heide Park Soltau. The two dolphins were transferred to Nuremberg and the dolfinarium was torn off.

Scandalous is that till this day still another dolphinarium at the amusement park Gardaland in Italy is purposed by the same operator! Over and over again, the owners announced a closure of the dolphinarium. However, nothing happened until now!

Please, protest and demand with us the closing of the dolphinarium in Gardaland in Italy.

Please send this form letter (please sign it yet) or a separate letter to the address indicated below. Merlin Entertainment is a consortium, and has many other amusement facilities.

Thank you for participating!

An online campaign by:

ProWal

www.walschutzaktionen.de