Photos Part 4

Bild-Textbericht über die Aktionen von ProWal/WDSF im Juli/August 2010 auf den Färöer Inseln.

Photo-Text Report about actions taken by ProWal/WDSF during the months of July and August 2010 on the Faroe Islands.

Tagtägliches Ritual der Walschützer - Ausschau nach Walschulen...

The daily ritual of the activists - looking for pods of whales...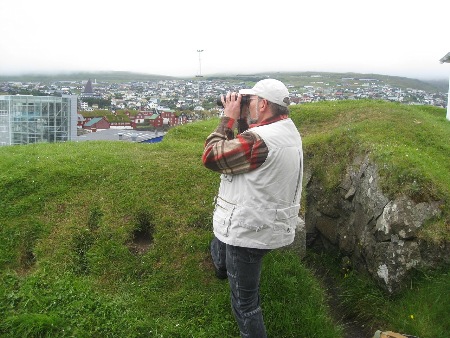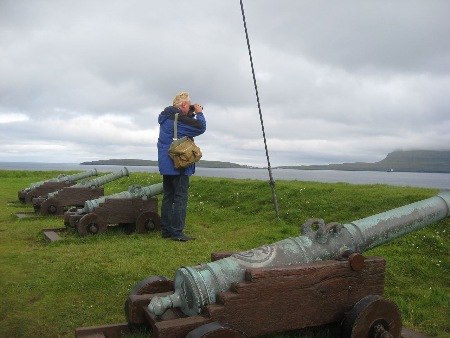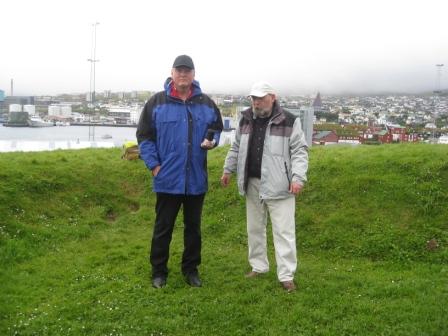 Andreas Morlok und Jürgen Ortmüller sind fest dazu entschlossen, Wale vor der nächsten Treibjagd zu schützen. Kein Wal soll ab nun bis zum Ende der Fangsaison mehr getötet werden, so ihr Motto. Nach wochenlangen Vorbereitungen setzen die beiden Tierschutzaktivisten nun einen außergewöhnlichen Plan um.

Alle Walschulen wurden in den letzten Monaten an der Ostküste der Insel-Gruppe getötet. Deshalb wird das Einsatzgebiet genau in diesem Bereich liegen.

Andreas Morlok and Juergen Ortmueller are totally committed to saving whales from the next hunt. Not a single whale should be killed from now until the end of the hunting season. That is their motto. After weeklong
preparations, the two activists are realizing their extraordinary plan.

During the last months all pods of whales were killed on the eastern side of the Faroe Islands. This is why they chose this site for their action.

"The geographical site of the Faroe Islands"

Quelle und Lizenzbedingungen unter Wikipedia: http://de.wikipedia.org/wiki/Datei:Faroe_Islands_location_map.svg Positionskarte der Färöer: Erik Frohne und http://de.wikipedia.org/w/index.php?title=Datei:Atlantik-Karte.png&filetimestamp=20050226195943

Als Angler getarnt, chartern die Tierschützer ein Schnellboot...

Pretending to be anglers, the activists rent a speed boat...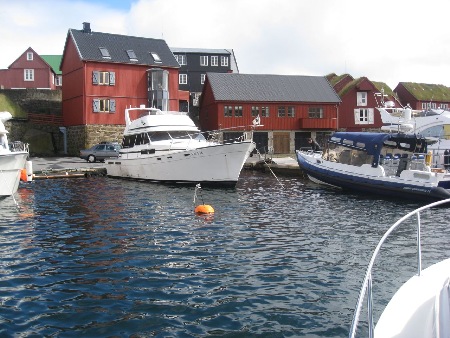 In der Angelausrüstung befinden sich sogenannte Pinger. Das sind wasserdichte Geräte, die Orca-Laute abspielen. Grindwale stehen auf der Speisekarte der Orcas und fliehen deshalb vor ihnen...

Hidden in their angling equipment are so-called "pingers". Those are watertight devices that emit sounds, which mimmic the call of the orca.
Since pilot whales are on the killer whale's menu, the pilot whales will flee the location...

Die Vergrämeraktion beginnt....kein Boot der Küstenwache ist in Sicht...

The deterrent action is beginning... there is no boat of the coast guard in sight...

Andreas Morlok: "Wir haben ein Schnellboot gemietet. Falls wir von der Küstenwache entdeckt und verfolgt werden, dann werden wir so richtig Gas geben. Wir werden unsere elektroakustischen Geräte auf jeden Fall ins Meer bringen und nichts wird uns davon abhalten. Das Meer zu beschallen ist ja nicht verboten."

Andreas Morlok: "We rented a speed boat. In case we should be discovered and chased by the coast guard, we will step on the paddle. We will definitely deposit our electro-acoustical gadgets in the sea and nothing will keep us from doing that. There is no law against burying sounding equipment in the sea."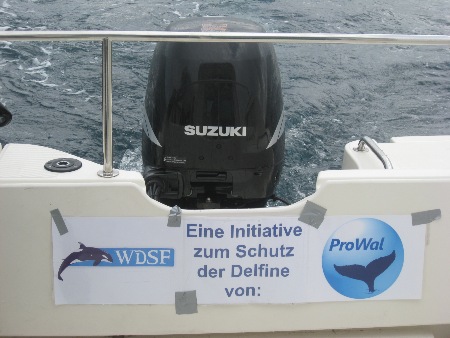 "An Initiative for the Protection of Dolphins"

Die Schlachtbucht von Thorshavn. Hier wird dieses Jahr ganz sicher kein Wal mehr sterben....

The "slaughter bay" of Thorshavn. Surely, no more whales will die here this year...

Auf dem offenen Meer vor der Ostküste der Färöer Inseln...

On the open sea along the eastern coast of the Faroe Islands...

http://www.youtube.com/watch?v=OsSuryggQt8

For a continuation, please follow the link to our video:

Nachtrag:

Voller Erfolg!

Kurz nach der Vergrämeraktion wurde gar eine Gruppe von Orcawalen vor Thorshavn gesichtet, die wohl durch die Orcageräusche vom Band angelockt wurde.

14.10.10

Obwohl der August, neben dem Juli, der Hauptschlachtmonat ist, wurde in diesem Monat an der Ostküste bis heute kein einziger Grindwal mehr gesichtet und getötet!

Total Success!

Shortly after the deterrent action, a pod of killer whales was sighted in the waters off Thorshavn. They might possibly have been lured by the orca sounds made by the device.

13.10.2010

Although August, aside from July, is the main month for the slaughter, to date not a single pilot whales was sighted or killed on the eastern coast of the Faroe Islands!

Foto: Grindwal mit Baby

Photo: Pilot Whale with Baby

Copyright:

Fortsetzung Bilder 5